What Do People Do on Their Laptops?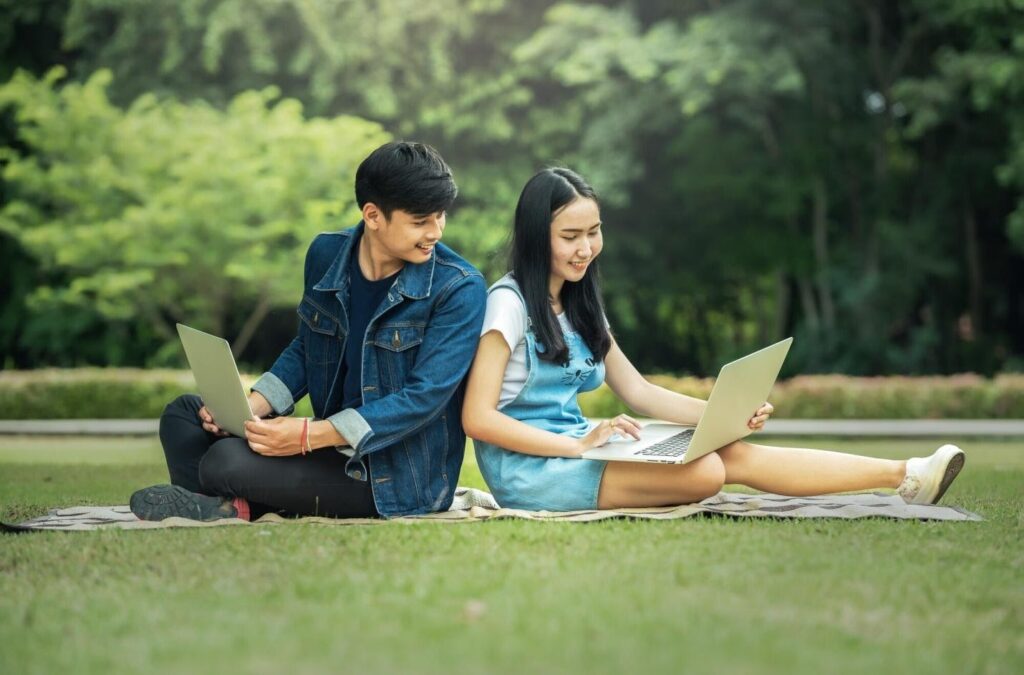 Over the past decade, the share of Americans that own a smartphone has dramatically increased from 35% to 81% between 2011 and 2019. While smartphones can be an incredibly convenient way to check your email, scroll through social media, and, of course, make phone calls, there are a lot of tasks that are a lot more difficult to do on a phone.
While you might not feel that you need a desktop PC in your home, most Americans will find that having a laptop is useful to them in work, school, and in their personal lives.
If you are considering getting a laptop but aren't quite sure if it will be useful to you, you might be wondering how other laptop owners use their portable computers.
Let's take a look at common laptop uses to help you determine whether or not it would be a worthwhile investment for you.
Working
More and more people are working from home these days. The movement towards remote work accelerated with the outbreak of the coronavirus pandemic. Whether you've been working from home for a decade now or you had to transition because of the virus, your work laptop can be an indispensable tool.
Blogging
Whether you love reading blogs or you maintain your own, this is a great way to connect with other people from all around the world. At this point, there are more than 600 million blogs on the internet, meaning that pretty much no matter what hobby you're into or topic you want to learn about, there's a blog for that.
Gaming
Video games are a big deal in the U.S. In fact, more than 164 million people (about 65% of American adults) play video games. If you're wondering what other people are doing on their laptops, there's a good chance the answer is gaming.
When you're looking for the right laptop, it's worth noting that they are certainly not all created equal. If you've been shopping around, you may have noticed the Intel Evo badge. You can learn more about what that means here.
Reading Ebooks or Comics
You can find tons of cheap or free eBooks and comics online. If you're looking for something to pass the time or enrich your mind, there's plenty of reading to be done using your laptop.
Watching TV or Movies
Laptops are perfect for catching up on the latest episodes of your favorite TV show, binge-watching an entire series, or watching movies. Whether you use Netflix, Hulu, another streaming service, or old-school technology like DVDs, Laptops can be used for watching media of all sorts just about anywhere.
Of course, you could also opt for newer media sources like YouTube. These days, there are more than 37 million YouTube channels, meaning that there is more content online than you could realistically watch. Many channels are formatted just like TV shows, and you might find that there are creators out there that are making content that is both enriching and entertaining to you.
Using Social Media
If it feels like pretty much everyone you know is using social media then you'll be happy to know that your instincts are correct. A majority of Americans use platforms like Facebook and YouTube, and social media sites like Snapchat and Instagram are used by a majority of people between the ages of 18 and 29.
Laptops are great for using social media because you can use them at a desk, on your couch, in bed, or at a coffee shop. You can post updates on your life and check in with the lives of other people you know no matter where you are.
Learning
The internet offers a tremendous opportunity for learning whether you have a school laptop or a personal one. Many people transitioned to online learning due to the coronavirus pandemic, but you don't have to be enrolled in a college or university to learn online.
There are countless free tools online that you can use to learn about the world around you. Wikipedia is an obvious choice, which compiles encyclopedia-like articles about just every topic you can imagine. Whether you're interested in coin collection, ancient aliens, the Constitution, the French Revolution, or literally anything, you can find places to learn about them online.
You can even basically get a college education using your laptop without all of that pesky, crippling debt. Programs like MIT OpenCourseware offers a selection of coursework from one of the most prominent universities in the world.
The internet also offers abundant opportunities for furthering your career or starting a new one. Thinking about switching gears in your work and learning to code? You can do so through programs like CodeAcademy.
Sometimes it's easy to get sucked into endlessly scrolling social media or watching episode after episode of some trashy TV show. However, there are a lot of growth opportunities hidden behind these lower-hanging pieces of fruit that can help contribute significantly to your life.
Shopping
If you have a desktop PC, chances are you've used it to buy stuff online. Amazon is by far the biggest e-retailer, with their 2020 net sales hitting close to 386 billion U.S. dollars. However, there are countless other stores online where you can find just about anything you could ever need and probably a lot of things you don't.
If you weren't an online shopper before the coronavirus pandemic, there's a good chance that you are now. In 2020, there were more than two billion people that bought services or goods online. During the same year, e-retail sales topped 4.2 trillion U.S. dollars around the world.
To find more information about the importance of branding, you should try Zonbase vs Jungle Scout for Amazon sales  
Being Creative
Having a laptop can be a window into a world of creativity. Whether you get into video editing, Photoshop. making music, or something else entirely, this technology allows you to produce creative products that you can then share with the world.
Laptops can be incredibly powerful. These days, advanced technology is accessible to regular people in a way that was totally unthinkable in the past. When you consider the capabilities that are available to you in programs like Photoshop, Lightroom, or video editing software, you can see that the trickle-down of technology over the decades has made it so individual people are capable of creating high-level, professional creative products.
Personal Finance
Staying on top of your personal finances is an essential part of being a responsible adult. It can feel overwhelming, though, as money is likely always streaming in and out of your accounts. When you use your laptop to manage your personal finances, you can keep all of your information in an organized location while also being able to update your accounts from just about anywhere.
Make Extra Money
Have you noticed more and more cultural discussions of having a "side-hustle"? While many people have full-time jobs with benefits, they might find that the burden of a mortgage, student debt, the cost of living, and other expenses make it so they could benefit from some additional cash. Rather than going out and getting a part-time job at your local coffee shop or liquor store to make a little extra income, consider the possibility that you could make money from home with your laptop.
Having a side hustle can mean a lot of different things, including:
Selling your crafts on Etsy
Starting a retail business
Teaching music lessons
Writing eBooks
Teaching English online
There are lots of different options when it comes to having a side hustle. If you do a good job with your market research and business concept, you might even find that you're eventually able to leave your day job to focus on your passion project.
There Are Countless Laptop Uses That Could Benefit You in Work, School, and Life
While you might find that your smartphone is a great way to get quick answers to simple questions and to check up on your social media, there are definitely places where these small devices fall short. If you are looking to do more in-depth research on a topic, a laptop is certainly the better tool. They are also better for watching media, writing, working, and learning.
Laptops also have benefits over desktop PCs. While desktop computers can be usefully powerful for some tasks, you also might find that you simply don't need that type of power for your intended uses. Laptops are also great because of how portable they are, meaning that you can use it in coffee shops, on buses, at parks, or from the comfort of your own bed.
Did you find this article about common laptop uses helpful? If so, be sure to check out the rest of our blog for more informative and useful content!
Since we already live in the future and people often play online casinos or online lottery in uae on their laptops, even being on the other side of the earth, because nowadays distance is not a problem.