Revamping Your Restaurant's Kitchen with Professional Design Services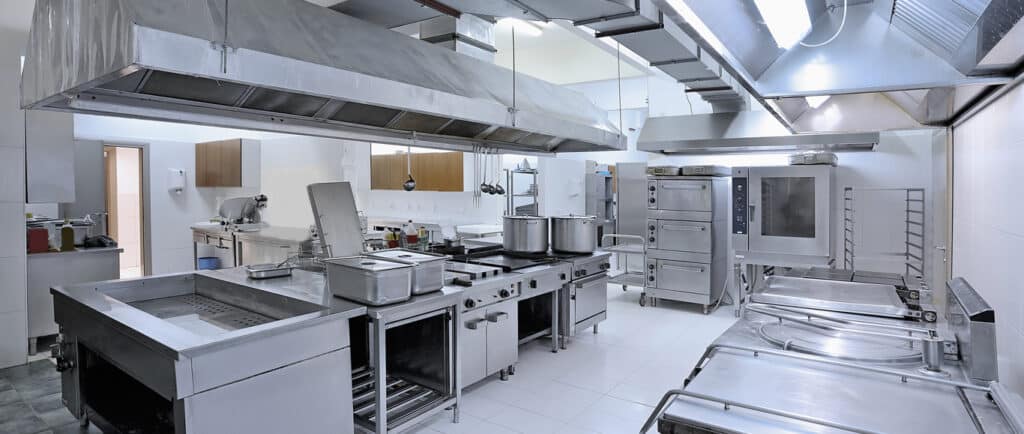 It's important to consider your restaurant's concept during the design process. Different concepts will require different types of equipment. For example, barbecue joints will need grills and rotisseries, while restaurants that offer ethnic cuisine might need specialized prep areas.
Additionally, your kitchen will need sanitary stations where staff can wash their hands. It's also important to think about the location of these stations so they are easily accessible.
Space Efficiency
Your commercial kitchen must be well-planned to ensure ample space for all necessary equipment and accommodate workflow. Having a space that is cluttered or crowded can make it difficult for your BOH staff to work efficiently, leading to slower service and poor customer experience. A professional designer will help you determine the best layout based on your business goals and the space available.
The restaurant design process starts with a comprehensive space analysis to assess your current workflow and determine your kitchen needs. This will provide the foundation for your new restaurant kitchen layout. Your designer will create a blueprint for your project and walk you through the entire design process. They will also help you prioritize features so that you get the most value out of your renovation project without spending more money than needed.
As part of your space planning, your commercial kitchen design expert will consider how many different stations you need and where they should be located within your kitchen. For example, you might need a separate area for food prep and one for dishwashing. This allows your kitchen staff to focus on their tasks without distraction and helps prevent cross-contamination.
Additionally, your kitchen will need to have ample storage space for tools, equipment, and ingredients. This may include pantries for dry goods and commercial fridges or freezers for your perishables. You'll also need cupboards to hold your place settings, which could include plates, glasses, utensils, and linens. Your design team will take into account all of these storage needs to ensure that your kitchen is well-equipped and organized.
A renovation of your restaurant's kitchen is a great opportunity to upgrade or replace older, inefficient appliances with more energy-efficient models. This can greatly impact your restaurant's energy costs and performance.
A commercial kitchen renovation can also be a good time to rebrand your restaurant. A fresh coat of paint can boost your brand awareness, attract more customers, and improve your overall experience. This is important to keep your business relevant and competitive as you grow and evolve.
Flexibility
If you're renovating your restaurant kitchen to meet the needs of a new menu, the design must be flexible. This is because food service is a very fluid industry, and your kitchen layout will need to be adjusted as your business changes over time. A professional designer will understand your needs and create a flexible layout that allows for reorganization as needed.
For example, you may need to add extra space for storage in your restaurant's kitchen. This could include pantries for dry foods, commercial freezers or refrigerators for perishable items, and cupboards for storing cooking tools and place settings. A good restaurant kitchen layout will also allow for a designated area for receiving deliveries from vendors. This delivery space should be close to your storage spaces to reduce spoilage but should not be in the main working area of the restaurant kitchen.
Another way to be flexible in your restaurant's kitchen is by designing a layout that allows multiple cooks to work simultaneously. This will make the process much faster and more efficient. A restaurant is a busy environment, and you need to be able to serve as many customers as possible quickly.
A restaurant renovation is not only an investment in the future of your business; it's also an opportunity to improve brand recognition and attract new customers. A simple touch like adding a fresh coat of paint to your restaurant's exterior can help draw in passersby who may not have noticed the establishment before. This makes a great impact on the customer experience, encouraging patrons to return again and again for your delicious offerings.
Cleanliness
In a restaurant, cleanliness is non-negotiable. Addressing any sanitation and cleanliness issues before jumping into aesthetic improvements is important. A renovation should be an opportunity to improve your staff's cleaning abilities and training, especially in light of the recent outbreak of COVID-19. A professional design team can help you create a layout that makes it easy to access and clean the back of house area, food prep areas, and other parts of your kitchen.
Safety
Your restaurant's kitchen is the heart of your food service business and can make or break your overall customer experience. When a commercial kitchen is well designed and organized, it allows back-of-house staff to work efficiently and produce high-quality meals consistently. However, if your kitchen is outdated, it can create a poor dining experience for customers and slow down business operations. Fortunately, you can improve the quality of your restaurant's food and boost customer satisfaction by investing in a restaurant remodel.
A commercial kitchen remodel can also help you save money on utilities, which will save your restaurant significant funds in the long run. In addition, a kitchen remodel can help you comply with health and safety regulations. By working with an experienced restaurant design and renovation firm, you can be sure that your new kitchen meets all of the necessary standards for your location.
When planning for a restaurant renovation, it's important to take your loyal customers into consideration. If your restaurant has regulars who visit weekly, it's a good idea to ask them what they like about the establishment and what would be a welcome improvement. Including your regulars in the remodeling process will help reduce stress and frustration and make them feel valued.
During the kitchen remodel, consider your employees' safety as well. Make sure your restaurant has a clear layout for staff to maneuver, and make sure there's ample room for fire extinguishers, smoke detectors, and more. In addition, make sure your staff has access to sanitary stations where they can wash their hands regularly.
Once the project is underway, it's a good idea to publicize your restaurant's remodel on social media and other channels. This will help attract new customers and let your existing ones know you're taking the time to give their favorite eatery a fresh look.